Custom Filtration Systems
FCI has been innovating and custom building Watermakers and filtration systems for over 30 years.
Whether you're looking for a completely tailored solution, or reconfiguring an existing system, FCI will develop an innovative solution to meet, and in most cases, exceed your water filtration needs. Every adaptation of FCI's exclusive watermaking technology re-defines our reputation for being the industry's true innovators of tomorrow's reverse
osmosis systems. Contact us directly with your requirements.
Custom Filtration Systems Specs
Available Output
Built to your specifications.
DOWNLOAD SPEC SHEET
Overview
More Power, Reliability and Technology Tailored for You.
Trust FCI to design and deliver the most reliable, Custom industrial reverse osmosis solution for you. For more information about how we can invent watermaking solutions that fulfill your fresh water needs, please contact us.
FCI Is Your Partner For Custom Systems Design.
Our partnership begins with understanding your needs. Together, we determine the many factors that contribute to properly engineering a Reverse Osmosis plant, including: space, source water chemistry, power, level of automation, ultimate water quality, and required output. With exceptional customer service, and the fact that we stand behind all of our systems, our partnership extends beyond just engineering a long-term water solution. Our hands-on technical support is on-call, and promises to be there when help is needed.
Impeccable Attention To Detail In Design And Engineering Generates Results.
Our systems are designed knowing at some point it will need to be serviced. That is why we pay careful attention to the accessibility of serviceable components, and placement of system controls. This promotes seamless monitoring, trouble-free maintenance, less frustration and downtime, and results in optimal system output.
FCI Filtration Systems Are Admired Worldwide For Their Reliability And Next Level Designs.
Our custom engineered solutions utilize decades of plant design experience, and the latest developments in reverse osmosis technology. Whether it's using Duplex stainless steel, advanced pre-filtration, energy recovery, or tailoring our proprietary V5 HMI/PLC advanced touch screen control system, we will put extraordinary watermaking reliability and sophistication at your fingertips.
Featured Custom System:
Our capabilities stretch beyond freshwater and the sea.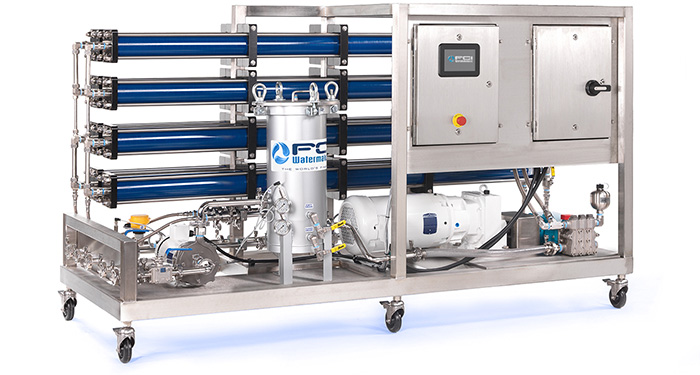 Wine & Juice Filtration
Custom engineered to remove unwanted substances from wine or juice.
Learn more. >
Parts & Dimensions
Custom Filtration Systems
Two fully automated, dual-pass, 5000 GPD systems engineered into one skid.
Two systems producing over 24000 GPD of first-pass purified water, and 12000 GPD of double-pass technical water under 10ppm.
Containerized designs delivered on-site, pre-tested, and ready for operation.
Tailored Components
Energy recovery options available. Engineered to fit your needs, and saves up to 40% of energy expense.
Automatic pre-filtration options for a wide variety of applications.
Custom System Options
Exclusive V5 Marine Certified touch screen HMI/PLC control system
Seawater, brackish water, municipal water applications
Energy Recovery saving as much as 50% in running costs
High Recovery systems up to 90%
Double-pass Water as low as 5 ppm
Technical Water systems
Boiler feed systems
Containerized units
Fully automated processes
Remote operation and monitoring
Pre-treatment
Post treatment
2205 Duplex Pumps / Manifolds