Wine & Juice Filtration Systems
Targeted Filtration Systems for small and artisan scale wine filtration and treatment.
These technical systems utilize the reliability of FCI Watermakers construction to provide cutting edge capabilities. Used to remove unwanted substances from wine or juice.
Wine & Juice Filtration Systems Specs
DOWNLOAD SPEC SHEET
Overview
Manufacturing Reliable Filtration For Over 30 Years
FCI has been pioneering, manufacturing and engineering reliable reverse osmosis filtration solutions for over three decades. We will tailor and scale a targeted filtration system to meet your winemaking needs.
Uses of targeted filtration for wine production include:
Water removal for most concentration
Reduction of acetic acid or ethyl acetate concentration
Removal of higher molecular weight contaminants (smoke/taint)
Management of color intensity using ultrafiltration
Removal of ethanol, when used in conjunction with secondary distillation or osmotic transport system (requires Distilled Spirits Permit)
For more information about how we can customize filtration solutions for your needs, please contact us.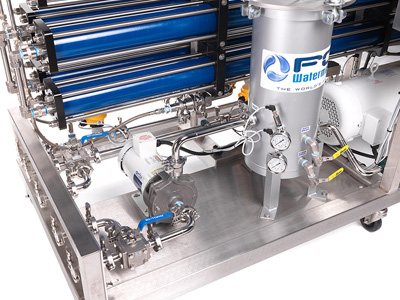 Sanitary fittings with 316SS components: frame, inlet switching valves, boost pump, and cluster filter.