Max-Q+APC/DTS Double-Pass Modular
The Max-Q+APC/DTS is the Flagship of our Max-Q Series, containing 3 modes of operation: Seawater Single-pass, Spot-free Double-pass, and Spot-free Dockside Municipal water treatment, all in one compact system.
Max-Q+APC and DTS+ in one all-inclusive system
The only true, one-touch fully automatic combo unit on the market
The industry's only Marine Certified HMI/PLC Touch Screen V4 Control System
Exclusive NEMA 4X rated enclosures and valves for safety and protection in harsh environments
8-point Vibration Isolation for exceptionally quiet operation
The Max-Q+APC/DTS is the flagship of the series, containing 3 systems in 1 compact frame: Watermaker, Double-pass Spot-free Seawater Purifier, and Spot-free Dockside Treatment System for municipal feed water.
Max-Q+ APC/DTS Double-Pass Modular Specs
Available Output
Seawater

1,850 GPD

Double-pass

1,200 GPD

Dockside

2,000 GPD
Electrical Requirements
HP

2.5

KW

2.29; 0.75 (DTS)

VAC

120 / 208-240 / 380 / 480

HZ

50 / 60

Phase

1 / 3
DOWNLOAD SPEC SHEET
Overview
Combine yachting's most reliable and advanced water making system, Max-Q+APC, with our spot-free workhorse, DTS+, and you get the ultimate, and world's only fully automated water purification system of its kind.
The Max-Q+APC/DTS Double-Pass Modular is an all-inclusive system that saves up to 40% on initial equipment cost, and 50% less on the installation cost of multiple components. Identical to the Max-Q+ Framed but built for those with tighter fits.
FCI brings you the first all-in-one fully automated, self-adjusting system, thanks to Automatic Pressure Control (APC) valving, automated source water valve selection, and the industry's only marine certified hi-res touch screen panel. Choose amongst 3 modes:
Seawater – seawater to purified water
Double-pass – seawater to spot-free
Dockside – municipal to spot-free
Our exclusive, intuitive V4 controls allow you to customize your system, and go from seawater to drinking water, or dock water to spot-free water with one touch. The included carbon and sediment pre-filtration optimizes membrane life, resulting in less maintenance, lower operating costs, and more enjoyment at sea. Safety is a top priority, so we employ the industry's only NEMA 4X rated electrical enclosures and valves, which means they are resistant to corrosion and protected against directed water intrusion. With the built-in DTS+, spend less time wiping down your vessel, and relish the benefits of spot-free wash-downs to maintain and extend the life of your yacht's finishes, equipment, and gear.
Read more on Why FCI leads the industry in reliability, engineering and technical support.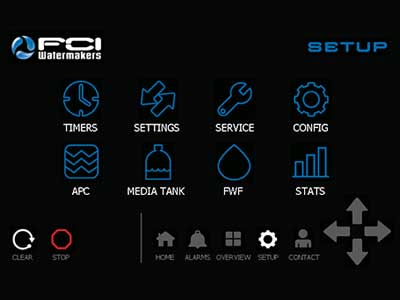 Icons and intuitive navigation make customizing your system effortless.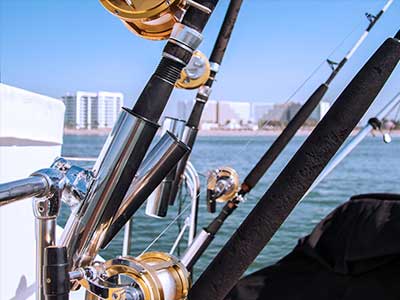 Eliminate hard water build-up on your gear, galley and appliances.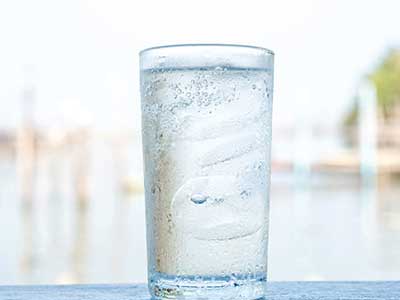 Provides purified drinking and cooking water when you need it.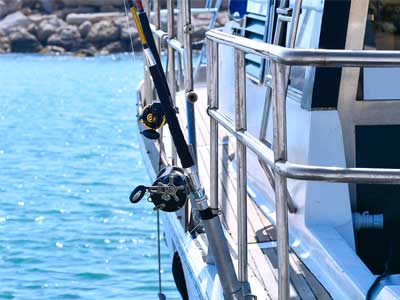 No more chamois-drying windows, rails, and hard-to-reach areas.
Typical Water Conditions
Temperature

77º F / 25º C,

TDS

32,000 Seawater; <500 Municipal/DTS,

Pressure

825 PSI Seawater; 60 PSI Municipal/DTS
Parts & Dimensions
Max-Q+APC/DTS Double-Pass Modular
Display / Valve Panel
| | |
| --- | --- |
| Width | 20.00 in / 508.00 mm |
| Depth | 7.75 in / 196.85 mm |
| Height | 15.10 in / 383.54 mm |
Flow Panel
| | |
| --- | --- |
| Width | 28.00 in / 711.20 mm |
| Depth | 9.30 in / 236.22 mm |
| Height | 14.80 in / 375.92 mm |
LP Pump
| | |
| --- | --- |
| Width | 7.15 in / 181.61 mm |
| Depth | 15.90 in / 403.86 mm |
| Height | 10.80 in / 274.32 mm |
Pre-Filter
| | |
| --- | --- |
| Width | 11.10 in / 281.94 mm |
| Depth | 9.60 in / 243.83 mm |
| Height | 20.50 in / 520.70 mm |
Fresh Water Flush
| | |
| --- | --- |
| Width | 9.30 in / 236.22 mm |
| Depth | 6.10 in / 154.94 mm |
| Height | 12.45 in / 316.23 mm |
HP Pump
| | |
| --- | --- |
| Width | 23.96 in / 608.58 mm |
| Depth | 9.65 in / 245.11 mm |
| Height | 10.64 in / 270.27 mm |
3-Way Actuated Valve
| | |
| --- | --- |
| Width | 5.96 in / 151.38 mm |
| Depth | 4.58 in / 116.33 mm |
| Height | 14.20 in / 360.68 mm |
Carbon Inlet Filter
| | |
| --- | --- |
| Width | 11.47 in / 291.34 mm |
| Depth | 8.09 in / 205.49 mm |
| Height | 13.76 in / 349.50 mm |
Pressure Vessels
| | |
| --- | --- |
| Width | 47.84 in / 1215.14 mm |
| Depth | 7.10 in / 180.34 mm |
| Height (1275 GPD Systems) | 20.00 in / 508.00 mm |
| Height (1850 GPD Systems) | 24.00 in / 609.60 mm |
Standard Features
Spot-free water from seawater or dockside water
3-in-1 System saves up to 40% in cost of equipment, and 50% less on installation
Fully Automated in all 3 modes of operation: Seawater, Double-pass, and Dockside modes
Standard Automatic Pressure Control auto-adjusts pressure to global feed water conditions
Intuitive HMI/PLC V4 Control System with one touch operation
Exclusive Marine Certified 7" Hi-res Touch Screen Display
NEMA 4X Rated V4 Control Valving and Protection
Noise-dampening 8-point Vibration Isolation Mounts and Open Frame design contribute to the industry's quietest operating system
Built-in, on-screen troubleshooting, and exceptional on-call technical support available
Fully automated Fresh Water Flush
Standard DTS GAC Filter protects against chlorine and harmful dock water contaminates
Standard 40 sq. ft. commercial Pre-filter with PVC core in addition to pressure monitoring and alarming
40 sq. ft. of 5μ micron pleated filtration
Unique IP address for remote access
The industry's smallest double-pass unit available in its category
Ability to relocate Pressure Vessel Assemblies and FWF Assembly to reduce frame footprint
316L SS Boost Pump with washdown duty motor and 316L SS motor shaft
316SS HP Pump
The industry's only Visual indication of product and brine flows
Dual Voltage and Dual Hertz operation
Multiple display station capabilities
Automatic Flush system
Washdown Duty Motors
316SS pressure transducers
Pretreatment lockout
Complete exploded view manuals
One-piece skid mount design
Optional Equipment / Accessories
Bridge classified 4.3" or 7" remote touch control station
pH neutralizer filter
Cruising kits
UV sterilizers
Feed water pressure regulators, relief valves and feed pump
Automated and manual Media Filters
Custom system designs
System soft start